Love has always been inspiring artists.
Almost every artist has at some time been inspired by the power of love.
Reproductions of their works or original litographies by great painters offer the opportunity to present a testimony of your feelings to your beloved Valentine, combining refinement and delicacy with good taste.
We have selected the best fine art reproductions featuring love and lovers in order to help you find the very special one that will fit your Valentine's taste.
Tomorrow is Saint Valentine's day,
All in the morning betime,
And I a maid at your window,
To be your Valentine.
William Shakespeare (Hamlet)
Pierre-Auguste RENOIR
.

Few painters have been able to rival Renoir, one of the greatest of the French Impressionists. Each one of his paintings is a work of love, full of sparkling color and luminous light.

The dance halls were among Renoir's favorite spots. There, he captured the young people flirting with each other. "Le Moulin de la Galette" is crowded with dozens of colorfully dressed couples dancing across the open floor. Laughing and talking, sometimes embracing, alive with the exuberance of youthful love.

"Dance at Bougival" is more intimate and romantic, focusing on just one pair. A rather stocky red bearded man and a lovely miss with auburn hair waltz together. He, quietly whispering in her ear as he swirled her around, her long white gown sweeping the ground. She, in turn, looks shyly away, a soft, almost Mona-Lisa smile passing over her face. Will she succumb soon to his attentions? Or will she follow a more cautious path, escaping to the arms of another partner for the next dance?

Renoir also found romance outside of Paris. "Luncheon of the Boating Party" is a large scale work. Everything is touched by the richness of Renoir's extraordinary palette.

Renoir's companions and associates entertain themselves in an outdoor cafe. Among them are the artist's fiance Aline and her dog, fellow painters and their models, as well as art collectors and boaters.

The relationship between the fourteen participants is quite intriguing. They interact in small groups--the women generally demure, the men admiring, especially one gentleman staring ardently at Aline who, thankfully for the artist, is more interested in playing with her pet.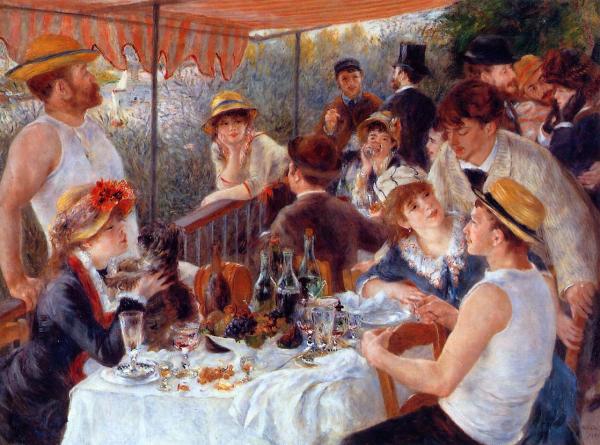 Renoir Luncheon of the Boating Party