Claude Monet, "Luncheon on the Grass"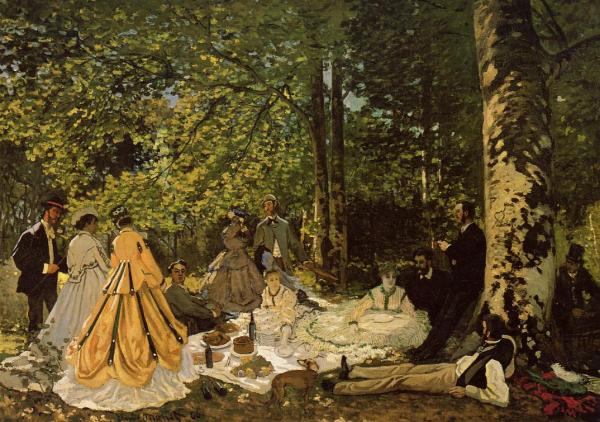 "Luncheon on the Grass", Claude Monet 1865, oil on canvas 130 x 181 cm, The Pushkin Museum of Fine Arts, Moscow Russia.
Painting Description :
This large painting is a study for an even larger one (460 x 600 cm !). It was painted indoors after studies from life. Bazille, a friend of Monet, posed three times, for the man lying down, and for those standing on the left and center.



Click to order a 71 x 51 cm print


---
See Also in Giverny Directory :
Monet Reader Springtime
The Reader also known as Springtime, Claude Monet 1872, oil on canvas 50 x 65 cm, The Walters Art Museum, Baltimore Maryland USA.
(Hits:37737)
Monet Garden at Sainte Adresse
"Garden at Sainte Adresse", Claude Monet 1867, oil on canvas 98 x 130 cm, Metropolitan Museum of Art, New York USA. Sainte Adresse is a location close to Le Havre.
(Hits:44615)
Monet Beach at Sainte-Adresse
"The Beach at Sainte-Adresse", Claude Monet 1867, oil on canvas 75 x 101 cm, The Art Institute of Chicago, Chicago Illinois USA. Sainte Adresse is a location close to Le Havre.
(Hits:35740)