Claude Monet, "Vetheuil in Summer"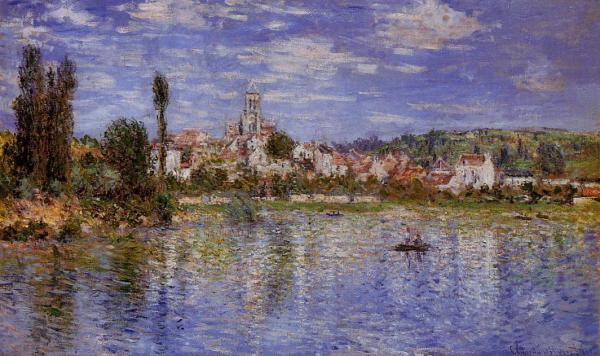 Vetheuil in Summer, Claude Monet 1880, oil on canvas 60 x 100 cm, Metropolitan Museum of Art, New York USA.
Painting Description :
Monet painted this view of Vétheuil from the opposite side of the Seine. The flicker of individual brushstrokes reflects his concern with recording sensations of color and light as accurately as possible.



Click to order a 36 x 28 cm print


---
See Also in Giverny Directory :
Monet Garden at Vetheuil
The Garden at Vetheuil, Claude Monet 1881, oil on canvas 60 x 73 cm, Private collection, Japan.
(Hits:20011)
Monet s Garden at Vetheuil
Monet s Garden at Vetheuil, Claude Monet 1881, oil on canvas 150 x 120 cm, National Gallery of Art, Washington, D.C. USA.
(Hits:36924)
Lane in the Poppy Field
Lane in the Poppy Field, Ile Saint-Martin, Claude Monet 1880, oil on canvas 80 x 60 cm, Metropolitan Museum of Art, New York USA. Also known as Path in Ile Saint Martin or View of Vetheuil.
(Hits:30450)