Claude Monet, ""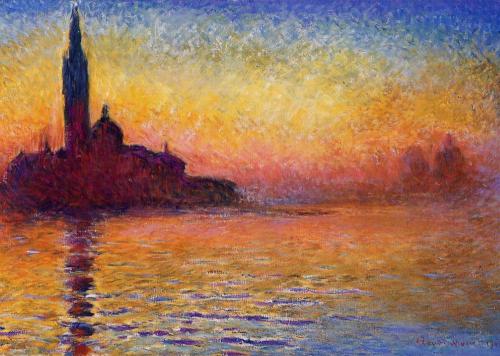 "San Giorgio Maggiore at Dusk", Claude Monet 1908, oil on canvas 65 x 92 cm, National Museum of Wales, Cardiff Great Britain. Also know as San Giorgio Maggiore at Twilight or Sunset in Venice or San Giorgio Maggiore at Venice.
Painting Description :
A view of the monastery island of San Giorgio, painted from the south-eastern end of Venice. On the right are faintly visible the dome of Santa Maria Salute and the mouth of the Grand Canal. Team Fortress 2 Cheat
Every evening in late November 1908, Monet and his wife made gondola trips to enjoy 'these splendid sunsets which are unique in the world'.
Also known as San Giorgio Maggiore by/at Twiligh.

Click to order a 91 x 61 cm print


---
See Also in Giverny Directory :
Grainstacks, White Frost Effect
Grainstacks, White Frost Effect, Claude Monet 1889, oil on canvas, Hill-Stead Museum, Farmington Connecticut USA. Giverny.
(Hits:23573)
Monet Magpie
"The Magpie", Claude Monet 1869, oil on canvas, Musee d Orsay, Paris France
(Hits:84954)